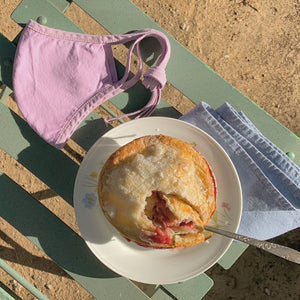 Each order includes 2 lightweight hemp/organic cotton masks.
• Fabrics may vary: 80% Organic Cotton, 20% Hemp Blend (Fabric Ties may be a hemp, org cotton, recy. poly blend)
• Machine wash warm, only Non-Chlorine bleach when needed
• Material and color may vary
• Non-medical grade
• Not intended for clinical use  
• Reusable
• Fabric ties
• Tumble dry low
• Machine Washable
• Please wash before use
 ALL SALES ARE FINAL
Mask Pattern:
https://drive.google.com/drive/folders/1tfxPviNS7W_OLWGgZSl02cQIwsPUOVkm


Front: Cut 2 on Bias (at 45°), Face to Face
Back: Cut 2 on Bias (at 45°), Face to Face
While the research has been up for debate on the effectiveness on fabric masks, they seem more likely to help citizens who may have to step out of their homes. #stayhome #staysafe

ATTN: This device should NOT be used as a replacement for conventional and approved Personal Protective Equipment. The device has not been industry tested nor has it been NIOSH approved. The decision to use this device is solely your own.