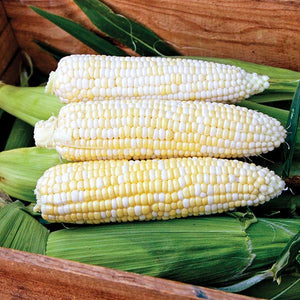 A sweet corn bred for (and by) organic growers!
Zea mays
Excellent flavor and texture; good cool soil emergence. Compact 5-6' tall plants with ears 2' off the ground; 14-16 rows of kernels each. Good tip fill and husk coverage. Ears have an extended harvest window - check frequently for maturity. Developed by Dr. Bill Tracy, Jared Zystro, Dr. Adrienne Shelton and Dr. John Navazio in collaboration with the Organic Seed Alliance and farmer Martin Diffley, and introduced in 2015. High Mowing is proud to be the exclusive producer of organic seed for this variety. A portion of the sales for this variety are paid to the breeder. Approx. 150 seeds/oz.
Sugary enhanced (se)
7-8" ears
Package Size: 1/2 oz.