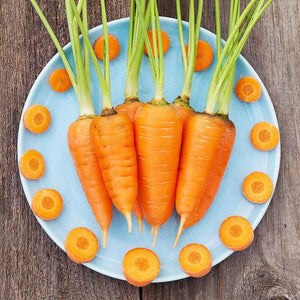 Broad-shouldered variety with sweet, old fashioned carrot flavor.

Daucus carota
Wide shoulders, a tapered root and a blunt, rounded tip; thrives in heavy soils. Fine-grained texture and a characteristic red core. A great variety for soups, freezing, canning and storage. Introduced in France in the late 1800s and quickly became the processing industry standard. Approx. 24,250 seeds/oz.
Processing and storage
6" Chantenay-type
Package size: 1/32 oz.