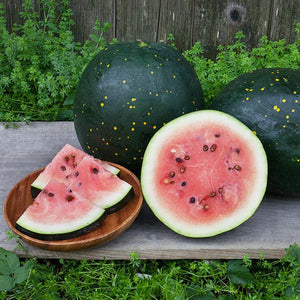 Extremely popular heirloom with sweet flavor and attractive yellow spots.

Citrullus lanatus
Dark green rind and foliage are decorated with large yellow spots (moons) and smaller ones (stars). Flesh is dark red with excellent flavor and a thick protective rind. Large oblong fruits can grow to enormous sizes, up to 40 lbs. Requires warm temperatures to set fruit. Introduced in 1926 by the Henderson Seed Company. Approx. 500-750 (625 avg) seeds/oz. 
Package size: 1/16 oz.