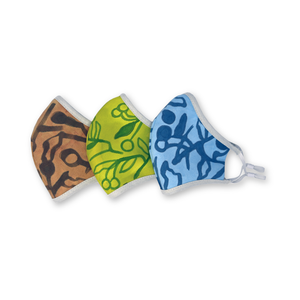 EACH ORDER WILL INCLUDE 2 LIZA CORSILLO HAND PAINTED MASKS.

All Artist's proceeds of $15 from every order will be donated to Heart of Dinner. 
Founded at the onset of COVID-19, Heart of Dinner works to fight food insecurity and isolation experienced by Asian American seniors—two long-standing community issues heightened by the pandemic. 
​We now serve 1,500+ elders in Lower Manhattan, Brooklyn and Queens, delivering weekly hot lunches, fresh produce, and bulk ingredients while supporting local small businesses during their COVID-related recovery process
___________
With the onset of the covid-19 pandemic and #saferathome mandates from our governments, it became apparent that artists of all kinds would be hit the hardest during this time. Without the ability to work at their studios, show at galleries, cook their food, pour their drinks, sell their art or act, dance, and perform on stage - artists' livelihoods would be been severely threatened. At the same time, it is these very same artists who we look to for inspiration and comfort in times of loneliness, sadness, and despair. And yet even during this time they have been doing what they do best- they have gotten creative and found ways to share their art with everyone online all over the world.
Still we felt that it would only be fair to try to find a way to help them earn a living. We reached out to Liza and asked if she wanted to use some of our masks as a way to display her art, get creative, and brighten someone's day; both the person wearing the mask and the stranger viewing the mask. So we got them a limited number of cut mask pieces to airbrush and then sewed them into masks. Masks are available on our site for and affordable $12 a pair, but if you would like to help support this artist they will receiving all of the additional income for these 1-of-a-kind hand painted masks. 

Each order includes 2 hand painted hemp/organic cotton masks with elastic  Mask color and design will be fulfilled at random.
Using fabric-safe paint, some *slight* fading of color is normal after many washes.
• Fabrics may vary: 55% Hemp, 45% Organic Cotton Blends
• Machine wash warm, only Non-Chlorine bleach when needed
• Material and color may vary
• Non-medical grade
• Not intended for clinical use  
• Reusable
• 
Ear Elastic
• Tumble dry low
• Machine Washable
• Please wash before use
While the research has been up for debate on the effectiveness on fabric masks, they seem more likely to help citizens who may have to step out of their homes. #stayhome #staysafe

ATTN: This device should NOT be used as a replacement for conventional and approved Personal Protective Equipment. The device has not been industry tested nor has it been NIOSH approved. The decision to use this device is solely your own.