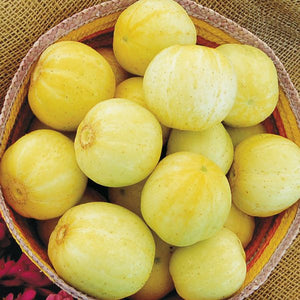 Specialty variety prized by chefs for its delicate flavor and crunchy bite.

Cucumis sativus
Round fruits turn from pale greenish yellow to lemon yellow (the best eating stage) and then bright golden yellow (when it most closely resembles a lemon). Easy to grow; does well in short seasons. Great for large containers! 1-1.3M (1.19M avg) seeds/oz.
Tolerates cool weather
Monoecious
3" fruits
Package size: 1/16 oz.