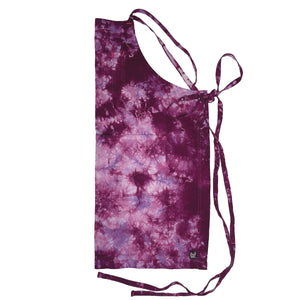 Don't stare too long into these Limited Edition Galactic Purple, Garment Dyed Cross-back aprons. You might end up in a number dimension, baking pastries for extraterrestrials that have replaced all their sugar with salt.
55% Hemp / 45% Organic Cotton Canvas. 
Ergonomic Cross-Back Design
Color Accented Bartack Reinforced Structural Connections at Straps and Corners
4 Pockets  (2 Sharpie/Thermometer, 2 large multi-purpose).
3/8" Brass Grommets for Ease of Securement and Removal.
Certified Sustainable Biodegradable Fabric
Dimensions:
Length: 32" (from top of bib to bottom of hem)
Width: 30" (below the bib, side to side)
Please be aware that due to the customizable adjustability of the strap and fit design, our aprons can fit MANY different shapes and sizes of people. The length of the straps can also be shortened to your preference but cutting on the end side of the bartacks to prevent fraying. 
______________________
All products are handcrafted in Los Angeles using the finest natural fibers and traditional artisanal skills. The subtle variations in color, texture, and finish are normal and to be expected by a handmade product. We use both vegetal and commercial low impact dyes with the goal of minimizing our impact on the environment while striving for the best color properties.